Samsung SNS Products Important Notice
V.T.C. Enterprise Co Ltd ; as the authorized exclusive distributor of Samsung SNS/EZON smart home products(Digital Door Lock, Video Intercom System, Home Automation/Network System) in Thailand, sell original and genuine products from the manufacturer with technical support, quality guarantee and after sales service by Samsung SNS/EZON certified technicians. Official Samsung SNS/EZON products are distributed in HomePro, HomeWork, Central Chitlom and other authorized channels.

V.T.C. DOES NOT SUPPORT any unqualified products sold in the gray market by the parallel importers as some of these products are refurbished or second-hand goods and installed by non-certified technicians.
The parallel importer who has showroom at CDC & Fortune IT Center;Door Digital(Epic System Thailand), DeeDee Tech Support and etc…are NOT AUTHORIZED by Samsung SNS Korea and V.T.C. Enterprise Co Ltd to distribute the products in Thailand.
We have received numerous calls from end users who were intentionally confused by parallel importers asking for technical support. Some tricks to confuse end users who usually do not spend time checking parallel importer's AD credibility like professional project owners are: claim to be the official Samsung agent very soon (which will NEVER BE), replace the New door lock for defective one(usually is refurbished or second hand product& without serial number on the package) to cover the fact that Samsung SNS and V.T.C. will not support products sold by them,exaggerate company history(CDC showroom opened in 2012 Oct) and end users number in Thailand(7000-12000), self claim No 1 digital door lock in Thailand, bluff Face Book fan base which can be bought online, unreal project reference(only few end users installation not the whole building), self-issued technician certificate and so on.
To protect the best interest of our customer and avoid confusion between original/genuine Samsung SNS/EZON products and unqualified products, the followings are the tips to differentiate and identify them.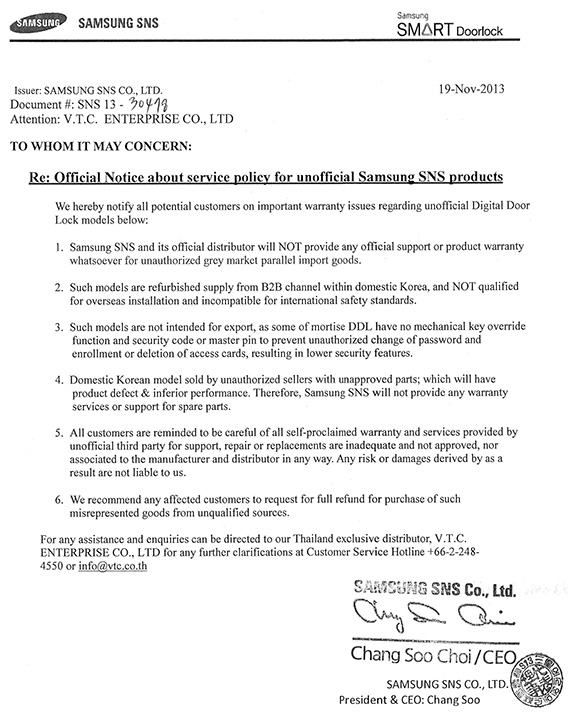 A: Original/Genuine Samsung SNS/EZON products distributed by V.T.C. Enterprise Co Ltd
B: Unqualified(some Refurbished or Second-hand) Products from gray market
1A.RF Warranty Card with Samsung EZON and V.T.C. logo
All the original/genuine Samsung SNS/EZON digital door locks sell in Thailandincluded this RF warranty card, which provide customers 2 year & free onsite warranty service and access to the digital door lock.

1B. Do not have this card since the product is not from the Samsung SNS/EZON authorized exclusive distributor
2A. Original English Manual (Hard covered) and Packaging printed by Samsung SNS/EZON.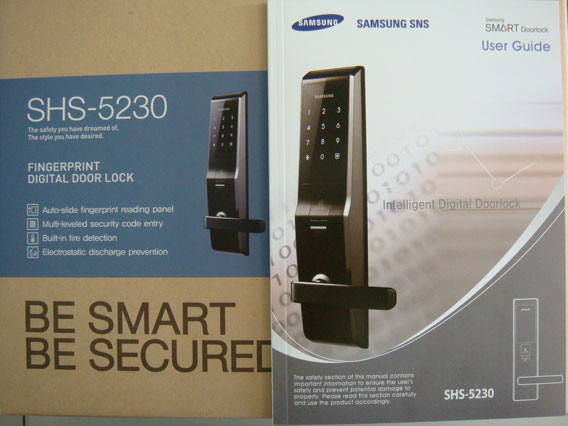 2B. Korean Manual and Packaging with black & white soft copy English manual sometimes.
3A. Technical Service & Installation by Samsung SNS/EZON Certified Technicians.(photo VTC technician teams)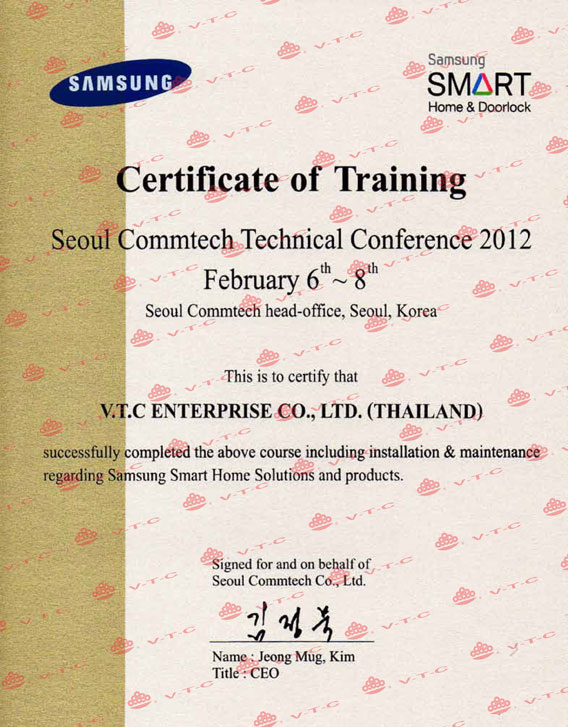 3B. No Samsung SNS/EZON certified technician available. The technician or agentfrom parallel importers is not trained by Samsung SNS; thus, he in terms does not know how to repair the malfunction product but can only replace "new"(mostly refurbished or second-hand) one as parallel importer claims.
4A. V.T.C. Customer Warranty Card guarantee the spare parts support even after the warranty period so customer can save money and use the same digital door lock for long period of time. (photo spare parts)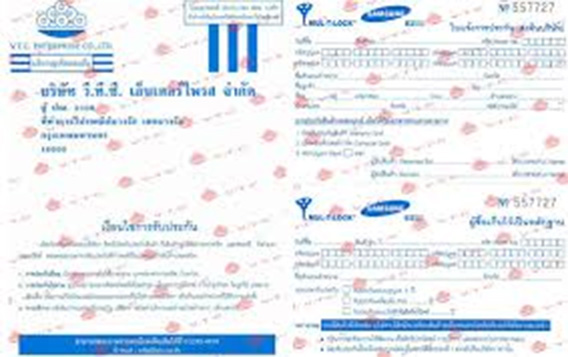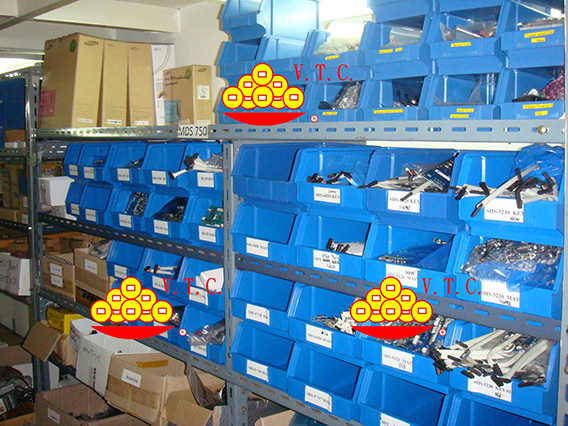 4B. Parallel importers can not support the spare parts since Samsung SNS/EZON does not support the product from gray market.  As a result, customer who buy products from gray market(especially the Korean version digital door lock)can not use them  for longer period, he/she will have to buy the new product once warranty expires and end up paying more money for the same digital door lock.
5A: Every Samsung SNS/EZON product distributed by V.T.C. is guaranteed to be the NEW product from factory
5B: Some refurbished or second-hand products will be mixed as the "new" products sold to customers. Due to no certified Samsung SNS technicians(3B) and no spare parts available(4B), parallel importers have to send the defective products back to exporting company(not to Samsung SNS) for check. These refurbished or second-hand products will be exported to gray market again as "new" product later.
6A: Security Code to prevent the unauthorized change of password and enrollment & deletion of cards

6B: Korean Version SHS-5230,SHS-5120,SHS-6020,SHS-6120,SHS-2320,SHS-2420, HS-2920 do not support this feature
7A. Products are designed and tested suitable for Thailand weather to enhance durability and the life span of products.
7B. The parallel import products are designed to use in Korea only(dry weather), certain components are not suitable for high humidity conditions that may cause malfunction or shorten the life span of products.